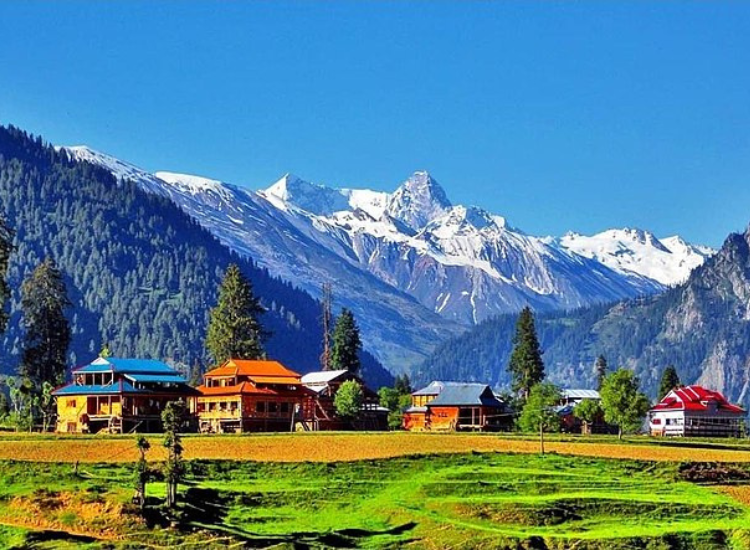 An Amalgamation of Everything You Need for a Perfect Holiday – Kashmir
Once again Kashmir has emerged as an extremely popular tourist destination in India. The destination had its ups and downs due to unrest of various kinds in the region. With a strong government administration in place, the difficulties are slowly disappearing, and Kashmir is getting back to normalcy – at least for the tourists. Tens of thousands who have been visiting Kashmir are proof that the destination is now safe.
There is no exaggeration in calling Kashmir – a paradise on earth.' It is an amalgamation of whatever we heard about paradise. The land is brimming with picturesque vistas, amazing flora, stunning architecture, friendly people, and mouthwatering cuisine, and the list is endless. Those who are a bit adventurous and sporty will find a plethora of activities like Golfing, Skiing, Trekking, River Rafting, Mountain Biking and so on. Also, the numerous religious shrines of Kashmir will show you the way to peace and serenity.
Discover the timeless beauty of Kashmir, the photogenic highland mountains, the scenic drives through green meadows, and the serene lakes of Kashmir through this Kashmir travel blog. Plan an unforgettable trip to Kashmir, the paradise you must visit.
1) Gulmarg
Gulmarg is a must-see attraction in Kashmir. At least for first-time visitors. We haven't been to Switzerland (yet), but we believe the topography of the two is eerily similar, both in the summer and in the winter.
About 55 kilometres from Srinagar, our driver regaled us with anecdotes about Bollywood's love affair with Kashmir along the way. Known as the 'meadow of flowers, Gulmarg needs to be experienced to truly understand its beauty. You might be surprised to learn that there is no local population in Gulmarg. Only tourists and the Indian Army have access to the area. For a bird's-eye view, we highly recommend taking the famous Gulmarg gondola cable car ride.
2) Serene Ride on the Sun-kissed Dal Lake in Srinagar
Dal Lake has an enthralling quality to it. There is an entire world hidden within it. You just can't see it from the outskirts. Only by exploring the inner waterways and creeks of this iconic Kashmiri lake can you see life on Dal Lake.
We initially assumed that Dal Lake would be the polar opposite of the offbeat experiences we were looking for in Kashmir. But one look at the shikaras and we knew we had never wanted to miss the experience of a Shikara ride on Dal, no matter how cliche it may sound!
There are a lot of things to enjoy in Dal Lake apart from staying at a houseboat and riding a Shikara. Here are a few things we tried;
• Staying in a Houseboat
• Walk around the Boulevard Street
• Visiting the Vegetable Market
• Mughal Gardens
• Watch the sunset
3) Pahalgam
Just when we thought we have seen everything in Gulmarg, we were treated to some more breathtaking views in Pahalgam. The Kolahoi Glacier, which supplies water to the Anantnag district, is a popular tourist destination in Pahalgam. We did notice an increase in army personnel presence here as a result of illegal border infiltration. The pristine Sheshnag Lake and the ancient Sheshnag Temple are also worth seeing.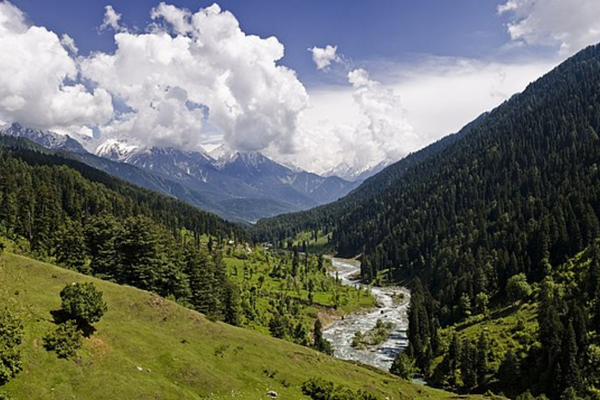 4) Betaab Valley
The highlight of our Kashmir tour. The best time to visit this valley is during the summer when it is at its most beautiful. Simply walking along the paths, standing on the bridge, or listening to the gushing of the flowing streams will brighten your day. This valley is breathtaking.
You can also include Aru Valley in your itinerary; it is only 12 kilometres from Pahalgam and is well-known for heli-skiing and skiing. There are also many other activities available here, such as horseback riding, family picnics in the valley, photography, and much more.
5) Sonmarg
Imagine waking up to the lush cornfields encircled by gigantic hills, sipping a hot cup of Kawah, with the wind caressing your face, that's what we felt. The road from Srinagar to Sonmarg is breathtaking. There are many icy rivers and mountain peaks. Private buses shared taxis, and private taxis are all options.
The joy of being in a scenic location was unique. There were snow-capped mountains all around, and the air was bitterly cold. With the forest, river, gushing water streams, snow-capped mountains, jaw-dropping glaciers, and scenic meadows; Sonamarg will spoil you with choices.
Kashmir will imprint strong memories for you. Memories of mountains and the Himalayas that you will never find anywhere on the planet.